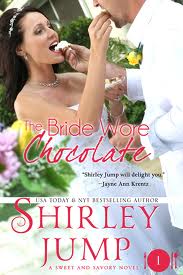 Today's featured book is the hilarious romance,
The Bride Wore Chocolate
by Shirley Jump, a sweet and indulgent love story. It has a 4.4 star rating with 44 reviews. "...a
mixture of wonderful writing, witty dialogue, family members that will leave you exasperated and laughing out loud-and the best chocolate recipes that I've ever had the fortune to stumble across."
-
Jennifer Wardrip
A Little About The Bride Wore Chocolate:
Life couldn't be more perfect for Candace Woodrow. Her company is thriving, and she's set to marry dependable Barry. But two weeks before her wedding she wakes up in the wrong man's bed. Candace has hopes to run out the door and forget all about Michael Vogler, but the Boston millionaire has other plans for the jittery bride. As the wedding approaches, Candace's life is further complicated by a thrill-seeking grandma and a nosy mother track record rivals Elizabeth Taylor's. She attempts to drown her sorrows in chocolate, but with a sexy bachelor appearing on her doorstep at every turn – she finds herself wondering if there's enough of the sweet stuff in the world to stop her heart from racing every time he comes near.

About the Author:
Shirley sold her first book to Silhouette Romance in 2001. That novel, THE VIRGIN'S PROPOSAL, won the Booksellers' Best Award for Best Traditional Romance of 2003. Two of her subsequent books were finalists in the Golden Quill Awards and two others were finalists in the Madcap Awards for best romantic comedy. She is also a Reviewers' Choice Award winner. Shirley has sold twenty-six novels and now writes stories for Harlequin/Silhouette and Kensington Books about love, family and food the three most important things in her life (though, there are many days when the order is reversed), using that English degree everyone said would be so useless. She also writes for Harlequin NeXt.
What People Are Saying About The Bride Wore Chocolate:
"Humor abounds in this promising new series...as an extra bonus, Jump provides decadent chocolate recipes with very entertaining directions."
--
Booklist
"The Bride Wore Chocolate is a sweet, indulgent love story to cure your cravings."
--
Romance Junkies
"The first in an entertaining new trilogy...filled with humor."
--
Romantic Times Bookclub
Get your copy of
The Bride Wore Chocolate
today.