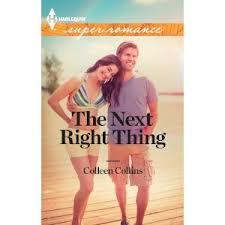 Romance fans, take a look at today's charming HOT NEW Release,
The Next Right Thing
by Colleen Collins.
"A heart-warming family story set against the razzle-dazzle of Vegas. Private investigator Cammie Copello is charming and fearless!"
~USA Today Best-selling Author Cassie Miles
A Brief Synopsis of The Next Right Thing:
Tough-minded private investigator Cammie Copello always gets results, even if it means breaking the rules, which caused the breach between her and high-profile attorney Marc Hamilton. But when his career is on the line, and the only one who can save it is Cammie, the next right thing is her only choice.
About the Author:
Colleen Collins's novels have placed first in the Colorado Gold, Romancing the Rockies and Top of the Peak contests, and placed in the finals for the Holt Medallion, Award of Excellence, More than Magic and Romance Writers of America RITA contests. After graduating with honors from the University of California Santa Barbara, Colleen worked as a film production assistant, improv comic, technical writer/editor and private investigator. All these experiences play into her writing.
What A Reader Says About The Next Right Thing:
"Colorful, skillful description and lively, fully fleshed-out characters contribute to this great read." ~Romantic Times Magazine Don't hesitate to pick up your copy of
The Next Right Thing
today.