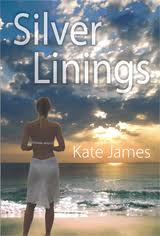 Kindle friends, today's Best Indie Books of 2012 SEMIFINALIST is
Silver Linings
by Kate James. Silver Linings has everything you want in a romance and does not disappoint. This beautifully-written novel currently has a whopping 4.9 star rating.
A Little About Silver Linings:
When tradgedy strikes, Katelyn's world is turned upside down. The beneficiary of her recently deceseased fiancee, Katlyn has his numerous properties at her disposal. Searching for peace, and hoping to move forward, Katelyn heads to the St. Lucian villa. She gradually begins to build a new life and fulfil a dream of owning an art gallery. Hesitantly, she also opens herself to accepting love once more. Yet fate intervenes again, threatening to destroy all that she has begun to build.
About the Author:
Kate James spent much of her childhood living in foreign countries, as her professional parents travelled on business. She lived in four countries and spoke five languages before settling down in Canada again to attend university. After graduating, she built a successful business career and ran three substantial organizations. While her writing during this period was mostly business related, including presentations and speeches she delivered both nationally and internationally, her passion is and always has been fiction. As a result, Kate turned her time and energy to her love of the written word.
What People Are Saying About Silver Linings:
"The writing is stunning, and Kate does a superb job of creating her characters; her settings and her story."
--Sarah Burns,
The Kindle Book Review
"This story will make you cry tears of joy and tears of sadness over again. This is the first book I have read by Kate James and it definitely will not be the last."
--Becky
Grab your copy of
Silver Linings
today.